Cool mac-stuff
If anyone is trying to reach me on msn right now, dont even try. For some reason, aMSN, adium or MSN Messenger for Mac wont let me log in. i tried logging in with my Gmail account and that didnt work either so im starting to think that its msn. i dunno.
anyway, if you really need me, email me.
If you hold down ctrl-command-D while moving your mouse over any bit of text, it will pop up a dicitonary. (this little tip only works in OS X 10.4 Tiger. ed. thanks void)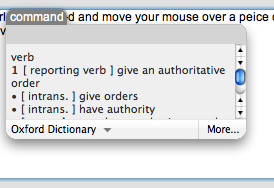 ImageVenue.com
=
excellent!